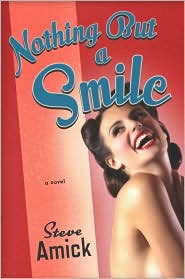 If you, like me, enjoy 1940s culture, vintage pinups and a good story, you should read Steve
Amick's
slightly naughty new book,
Nothing But a Smile
. It's nearing the end of World War II and Wink is a former serviceman, an artist with a newly disabled drawing hand. Sent by his military buddy Chesty to deliver a message, Wink meets
Chesty's
wife, Sal. She is minding the family's ailing Chicago camera shop and is secretly supplementing their income with a new business venture-- girlie photos, with herself as the model.
I enjoyed watching Wink and Sal's relationship develop, their saucy friend
Reenie
, and the "cameo" appearance by Gil
Elvgren
. It was also interesting to read about the carefully staged pinup shoots, tailored to suit the climate, with suggestive but wholesome shots for the boys at war and more skin once they returned to their women at home. I had bonus fun because part of the story is set in Ann Arbor, Michigan, where I once lived.